When will India start to honour those who fought in its name?
Vijay Diwas, as the day is known, commemorates not just an absolute military triumph, unparalleled in modern Indian history, but also the triumph and heroism of the professional Indian soldier.
Three-thousand, eight-hundred and forty-three Indian soldiers died in 1971. About three times that number, 9,851, were injured.
The war also saw 1,313 Indian soldiers receiving gallantry awards, many posthumously. Four were awarded India's highest battle honour, the Param Vir Chakra.
These four men represented the best of India, and yet they came from diverse backgrounds.
Lance Naik Albert Ekka was born in a small village near Ranchi.
Second Lieutenant Arun Khetarpal from Pune, was just 21 when he died in his tank, having single-handedly crippled the Pakistani armoured advance at the Battle of Basantar.
Flying Officer Nirmaljit Singh Sekhon, literally the Flying Sikh, defended the skies above Srinagar, taking on and outgunning F-86 Sabres in his slower and smaller Gnat.
Finally, there was Major Hoshiar Singh, who braved heavy shelling and went trench to trench, urging his men to fight on and capture an important Pakistani position in the Shakargarh Sector.
What motivated these men and thousand others? Under the inspiring leadership of men like Field Marshal Sam Manekshaw, these men weren't just "doing a job"; they were going well beyond the call of duty, showing extraordinary calm and determination and sheer, audacious bravery to fulfil the national objective despite overwhelming odds.
It is important to recall and remember these achievements, and distinguish this from the self-congratulation of a political and sarkari bandobast on every Vijay Diwas.
Politicians and bureaucrats in the Ministry of Defence have essentially spent the past four decades riding on the valour, the grit and the hard-won successes of those heroes of 1971.
And how have they appreciated these men? The general who led us in 1971, Field Marshal Sam Manekshaw, was an authentic Indian legend.
When he died in 2008, the Government of that time did dishonour. Let alone their presence, no wreaths were placed on behalf of the President and the Prime Minister. The Defence Minister was too busy with political meetings in Delhi. Instead, he sent his Minister of State – the most senior government representative at Sam Manekshaw's funeral.
Was this an unconscionable, one-off oversight? I would argue it betrayed a certain attitude and mind-set that has long since treated soldiers as cannon fodder to be used and discarded.
Let me tell you another story, also from 1971, though not from the war.
It begins with an earlier war, that of 1965, and with the martyrdom of Babaji Jadhav, a jawan of the Maratha Light Infantry, who was killed in Jammu & Kashmir.
He left behind a pregnant wife, so traumatised that a few months later she delivered a stillborn child.
Life was hard for this martyr's widow. She began with menial jobs, including one as a tailor's assistant. Later, she became a teacher in a village primary school.
Just before he died, Babaji had applied for an agricultural plot under a scheme that gave soldiers priority while allotting government land to landless peasants.
Indira Jadhav, Babaji's widow, pursued the case. It took her six years, until 1971, to get an assurance that the Government's promise to her husband would be honoured.
In July 2014 Indira Jadhav had approached the Bombay High Court. Not only had she not got an inch of the promised land, she was being asked to pay market rates – 2014 rates – by the district administration of Ratnagiri.
At the end of her wits, the lady went to court. She must have asked herself a hundred times: is this the country and people my husband fought and died for?
In 2010, the case of Pushpa Vanthi came to light. Living in Meerut, this 90-year-old widow of a retired Major was being paid a monthly pension of Rs 80. She was entitled to Rs 27,000 and had been battling the Ministry of Defence for 13 years, since her husband's death.
She believed her husband died of war wounds sustained years earlier. The Ministry claimed he died of an illness not related to the wounds.
As the dispute festered, the due pension was held up – and a soldier's grieving widow was left to survive on Rs 20 a week.
Appalled and ashamed, my foundation – The Flags of Honour Foundation – stepped in and offered to pay a monthly stipend to Pushpa Vanthi. It was the least we could do.
Why should our old soldiers and their families, the wives and dependents of our martyrs, continue to be the step-children of Vijay Diwas?
If we are to address this, the new Defence Minister has to take up as his mandate a set of long-pending demands and grievances of the Armed Forces.
The setting up of a Veterans' Commission, as a statutory institution to which old soldiers and their families – such as Indira Jadhav and Pushpa Vanthi – can go for help, is overdue. So is a uniform policy on gallantry award winners.
Currently, this varies from state to state. Clear, rigorous and expeditious implementation of the One Rank, One Pension policy, and a mechanism to look into the problems of disabled soldiers, for a lifetime, are other essentials.
We owe this to the men and women who defend us. It is the unfinished business of Vijay Diwas year after year for the past 43 years.
The writer is a Rajya Sabha MP
http://www.dailymail.co.uk/indiahome/indianews/article-2875141/When-India-start-honour-fought-name.html
Why not a Victory in Bangladesh Day?
December 16, 2014 14:07 IST
'The failure to remember the martyrs on a grand scale is a national problem. As a nation-State, India time and again fails to honour its true heroes: The men in uniform, says Nitin A Gokhale.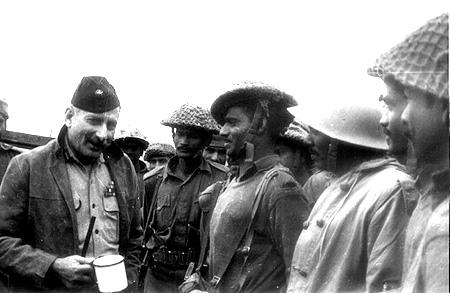 O
n Tuesday, December 16, morning, Defence Minister Manohar Parrikar, accompanied by the three service chiefs, followed a ritual that has become a practice for the past 42 years: Laying a wreath at the Amar Jawan Jyoti, paying tribute to the fallen soldiers in the 1971 war.
After that, it's business as usual.
Parrikar has been defence minister for less than two months, so to expect him to try and change the well-established procedure is unrealistic.
The failure to remember the martyrs on a grand scale is a national problem. As a nation-State, India time and again fails to honour its true heroes: The men in uniform.
It is therefore no surprise that December 16, the original Vijay Diwas, designated so after winning the war in 1971, is all but forgotten.
Well, someone can say we celebrate the Kargil Vijay Diwas on July 26, so what's the big deal?
Yes, Kargil is remembered chiefly because it was India's first televised war, but in doing so there is no reason why India's finest politico-military victory should be so completely forgotten.
Image: Then Army Chief General (later Field Marshal) Sam Maneckshaw with his troops during the 1971 War.
How many of us remember that for the first time after World War II a nation was created through a combination of people's resistance and military action?
The Mukti Bahini played a stellar role in harassing and softening up the Pakistani army in what was then East Pakistan, but it was the Indian military that dealt the decisive blow in December 1971 to defeat a numerically superior adversary.
Over 3,000 Indian soldiers made the supreme sacrifice. Nearly 10,000 soldiers were wounded. 93,000 PoWs were taken.
Yet, in our collective consciousness, 1971 is but a blurred memory.
How many of us remember for instance that for the first time after World War II, a large-scale airborne assault was launched by Indian paratroopers, hastening the end of the war?
Do we even remember the daring raid by the missile boats on the Karachi harbour that immobilised West Pakistan?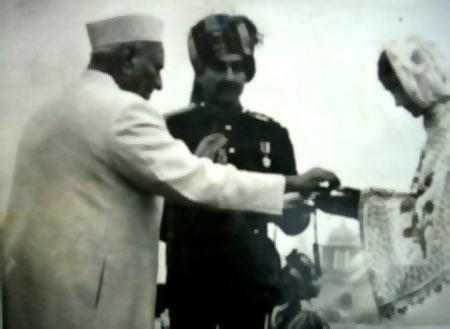 W
e perhaps don't even know that the Indian Air Force won its only Param Vir Chakra, thanks to the daring of the young fighter pilot named Nirmal Jit Singh Shekhon who in his tiny Gnat combat plane, took on the mighty Sabres and forced them to turn back during an attack on the Srinagar airbase.
We have surely forgotten the exploits of Albert Ekka and Arun Khetrapal, two more Param Vir Chakra winners in the 1971 war.
Image: Mrs Sekhon receives the Param Vir Chakra her husband Flying Officer Nirmal Jit Singh Sekhon won for his courage in the 1971 War from then President V V Giri.
If we don't remember them, we surely don't recall smaller, but equally significant contribution of countless soldiers.
For instance, had it not been for a young paratrooper Captain P K Ghosh, who spent 10 days behind enemy lines, the para-drop would not have gone like clockwork.
Or of many 'trainers' and 'liaison officers' of the Border Security Force and the Research and Analysis Wing who risked their lives to facilitate a resistance movement inside East Pakistan once the Mukti Bahini got off the ground.
A nation that does not remember the valour of its soldiers and protectors, is doomed to fail. The sheer courage displayed by Major (later Major General) Ian Cardozo in cutting off his own leg after he stepped on a landmine, post the termination of the conflict, is not known as widely as it should be.
The daring displayed by Captain (later Colonel) Ashok Tara in rescuing Bangabandhu Sheikh Mujibur Rehman's family members (including current Bangladesh Prime Minister Sheikh Hasina) from the clutches of a Pakistani army group, is not told often enough.
J
ust as Pakistan does not and cannot live down its defeat in 1971 and therefore continues to wage a proxy war, India should not let the memory of that spectacular victory fall through the cracks.
The world celebrates Victory in Europe Day or VE Day with great pomp and show. Even the contribution of Indian soldiers in World War I has been hailed across the globe and commemorated in different capitals throughout 2014.
So why not designate December 16 Victory in Bangladesh Day or VB Day every year? In doing so, India will be honouring itself.
Nitin A Gokhale is one of India's best-informed commentators on national security issues.
http://www.rediff.com/news/column/why-not-a-victory-in-bangladesh-day/20141216.htm